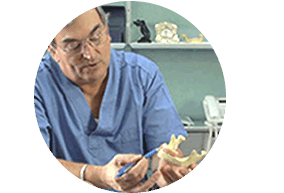 Thanks to "functional implantology" patients can recover immediately the chewing function.
The "functional implantology"is the immediate load implantology method followed by Centro Chirurgico.

More information about immediate loading implantology
Dental implantology is the ensemble of surgical techniques aimed to the functional rehabilitation of a patient affected by full and partial edentulism.
The Surgical Center is leader in the immediate loading implantology.
The advantages of "functional implant": mini invasiveness and immediate resumption of the masticatory function
Functional Implantology creates a structure able to immediately support the chewing stresses to avoid the post-surgical problems to patient as much as possible.