Macroscopic examination
Figure 6.10 shows a welded joint with syncrystallizer in an Argon saturated atmosphere; which is clean and without any trace of oxide.
The joint shown in figure 6.11 was instead welded in the absence of shielding gas; which is oxidized.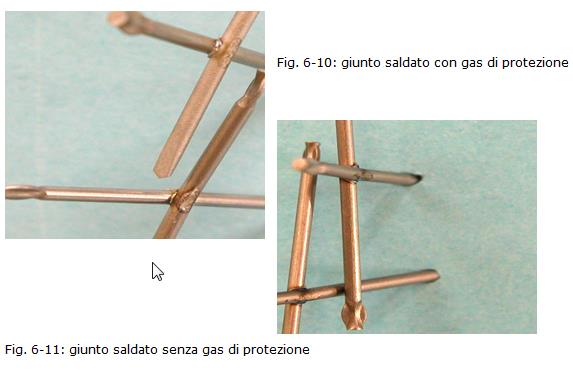 Optical microscope examination
The following two images were acquired with a metallographic microscope at a magnification of 41 X; both joints were subjected to acid attack.
The joint in figure 6.13, in which the shielding gas was used, shows a maximum penetration weld which makes the joint stable and resistant; the one in figure 6.12 in which the shielding gas has not been used shows a surface weld which makes the joint not very strong. The sinter sleeve is evident in the peripheral area.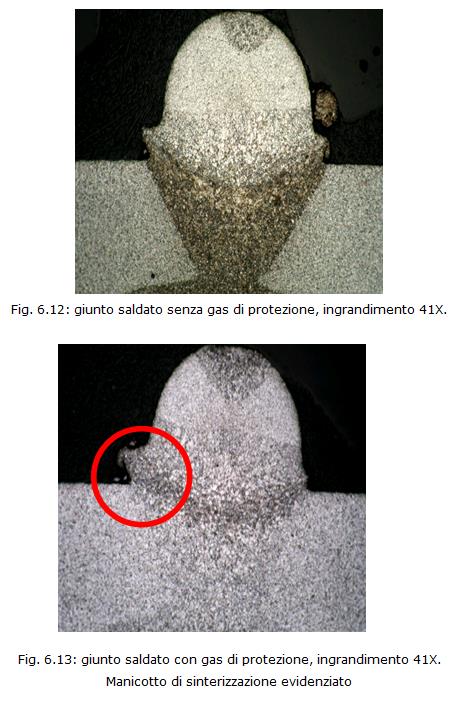 Electron microscope examination
The observation of the sent samples was performed with a Scanning Electron Microscope (SEM) LEO 420 (LEO Electron Microscopy Ltd).
The salient instrumental parameters used during the observation
are shown on the black strip at the bottom of each figure:
EHT = acceleration potential of electrons,
WD = working distance,
Mag = magnification.
The samples were sectioned perpendicularly to the "syncrystallized" zone and, without further treatment, were introduced into the SEM analysis chamber. 4 different samples produced by union with syncrystallizer were analyzed.
Given the perfect overlap of the results obtained, the most representative images collected on two samples are presented and discussed.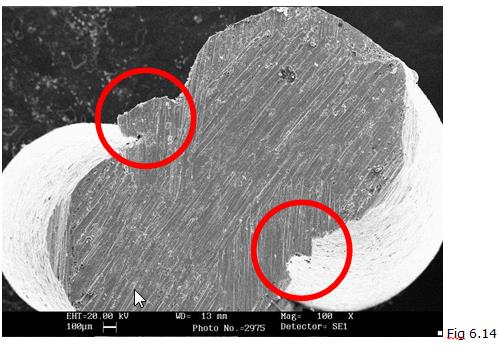 In this microscopic image, realized at 100 magnifications in order to have an overall view, it is visible a pair of titanium bars joined together by syncrystallization. Even at these low magnifications, it is possible to observe the perfect union of the two units. Points lacking in bonding or presence of porosity are not evident in any area, often observable at the level of metals and welded alloys both with more traditional techniques and with more recent techniques. At the peripheral level the ring due to the circumferential sintering is evident.
Figures 6.15, 6.16 and 6.17, made at 500, 1000 and 2000 enlargements, respectively, allow not only to confirm, but rather to reinforce the evidences already emerged from figure 4.5. The two titanium rods are intimately joined, without structural interruptions.
The furrows and ripples of the surface visible in the photos derive from the cutting operations (carried out to highlight the internal structure of the united area), which inevitably leave this type of trace.