Part. 6: PROTECTION FROM CONTAMINATION DURING WELDING PHASE
One of the main problems you meet while welding titanium and that influences the operative technique is the one caused by the extreme reactivity of titanium itself to the atmospheric agents (oxygen, nitrogen, hydrogen). So during the welding action, it's necessary to protect from oxidation the melted zone and any parts next to it,
This protection generally occurs in an atmosphere of inert gases like argon or helium;the inert gas surrounds every zone involved in the welding process, coming from one or more sources opportunely disposed around the melting point.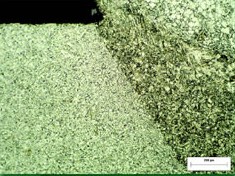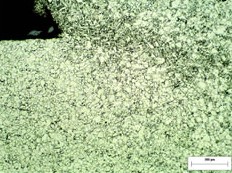 As you can see in the pictures the aspect of the joint in the gas atmosphere shows a compact granulometry, always keeping the original characteristics of the welded material.