Par. 11: WELDING JOINTS
11a: Macroscopic test
fig 10 shows a joint welded with syncristallization in Argon's satured atmosphere; it is clean and with no oxide traces.
The joint shown in Fig 11 has been on the contrary welded with no protection gas; it is oxidized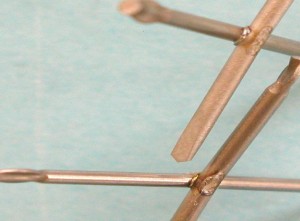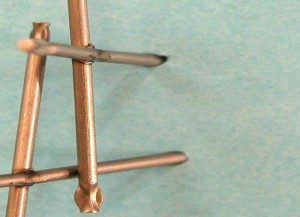 11b: Optical microscopic test
The following two images have been acquired by a metallographic microscope at an enlargement of 41X; both joints have been subjected to an acid attack.
The joint of Fig 13, in which the protection gas has been used, shows a welding at max penetration that enables the joint to be stable and strong; the one in Fig 12, where the protection gas has not been used, shows a superficial welding and the joint is not very strong.
In the peripheral zone it's clear the sintering sleeve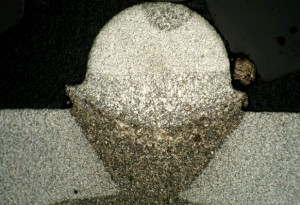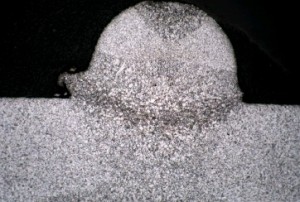 11c: Electronic microscopic test
The verification of the delivered samples has been done with a Scanning Electronic Microscope ( SEM ) LEO 420 ( LEO Electron Microscope Ltd ).
The main instrumental parameters used during the verification can be found on the black strip on the bottom of each Fig
EHT = extremely high-tension of electrodes
WD = working distance,
Mag = magnification
The samples have been selected perpendicular to the " syncrystallized " area and, with no further treatments, they have been introduced in the SEM analysis room. Four different samples have been checked, carried out through connection with syncrystallization.
As the results can be perfectly superimposed, the most representative images on the two samples are below presented and discussed.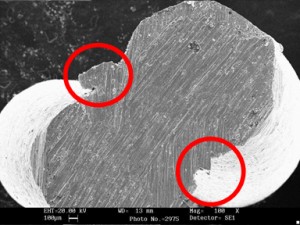 In this microscopic image, realized at 100 Mag, to obtain an overall vision, you see a couple of titanium bars joined together through syncristallization.
Even at these low Mag, you can observe the perfect connection of the two units. You do not find in any area points free of connection or presence of porosity, you can often observe with metals and welded alloys both with more traditional techniques and more recent ones. In the peripheral zone you can observe the ring resulting from circonferential sintering.
The fig 15, 16 and 17, carried out at 500, 1000 and 2000 Mag, respectively, enable non only to confirm, but even to strengthen the results already seen with Fig. 4.5. The two titanium rods turn out to be closely connected, with no structural interruptions.
The sulcus and the wrinkles of the surfaces visible in the pictures come out from the cutting operations ( carried out to show the internal structure of the connected area), which leave obviously this kind of traces.