It must be ascribed to prof. Pier Luigi Mondani the merit of having introduced the methodology of Intraoral Welding. The push for research in this direction arose from the fact that on the part of the operator there was a need to link the needles used in the execution of his favorite technique with an indissoluble bond.
With the adoption of a new implantology technique, functional implantology, the need was felt for an instrument able to weld Titanium bars into the patient's oral cavity without causing injury.
Thanks to the author's studies it was possible to develop a second-generation welder which, through a very high voltage current impulse for a very short time, allows the inter-dictation of titanium prisms, which are thus solidarized by the process called syncrystallization.
The syncrystallizer introduces the use of Argon as an antioxidant protection element in the formation of the joint.
More recent studies concerning the joint interface section have given the author the opportunity to introduce new concepts regarding the union between bar and implant. The third generation of devices for solidarization leads to a new structural morphology of the limit zone. In fact, thanks to the use of operating modes resulting from the combination of mechanical factors (pressure), current flow with suitably modified power curve and suitably regulated pulse time sequencing, it is possible to reach a circumferential sintering process associated with the deep syncrystallization (photo 6-1). This process, which represents a further progress in the characteristics of the joint, has led to the creation of a new generation machine. Starting from the notions of metallurgy concerning Titanium, the concepts regarding the deep syncrystallization process associated with circumferential sintering will be exposed.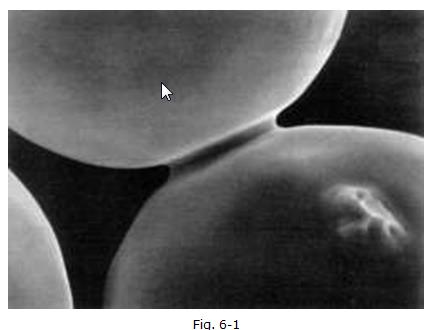 IL TITANIO

Titanium belongs to group 4 (a) of the periodic classification, in which it precedes Zirconium and Hafnium. Titanium is a silvery white metal, with properties similar to those of silicon and tin. It was discovered by Klaproth in 1775 and isolated by Liebig in 1831, who obtained it from the rutile. Under the impetus of the US military industry, different uses began in this field, especially in the aeronautical field. The first use in the implantology field, mainly orthopedic, dates back to that period. In dentistry Tramonte has the merit of having introduced it in the early 1960s with the use of its self-tapping screw. Among the metals it is in fourth place for abundance on the earth's crust, with a percentage of 0.6%.
Despite being one of the most widespread elements in nature, its industrial production cost is extremely high because it is difficult to extract.
Since the 1950s, thanks to an effective extraction process, two categories of raw materials have developed:
1. commercially pure titanium (Ti> 99%), indicated with the initials ASTM CP;
2. titanium alloys, with a percentage of titanium ranging from 80 to 98%, combined with aluminum, vanadium, tin chromium or other alloying elements.