SEM OBSERVATION
Sample B treated with simple sandblasting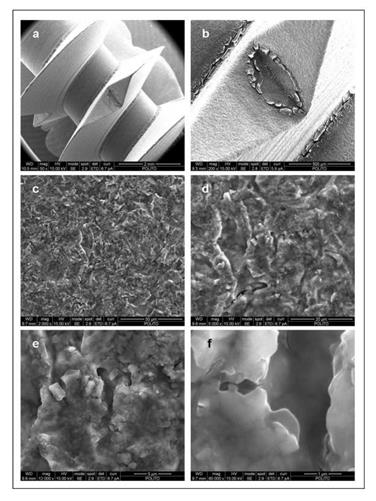 The surface roughness and niches are deep with disorderly architecture. In b a manufacturing defect is visible.
The surface appears more uniform as it is covered by a compact Titanium oxide layer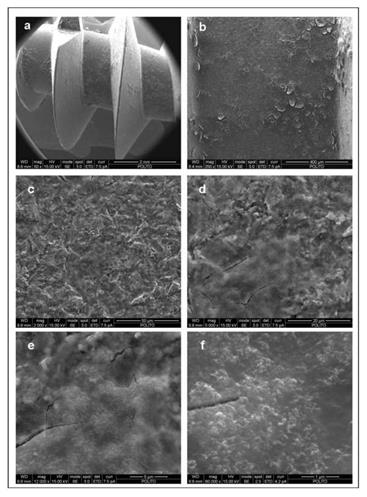 The EDS analysis between the two samples shows the different quantitative presence of Titanium oxide in favor of the hypersoxidized sample.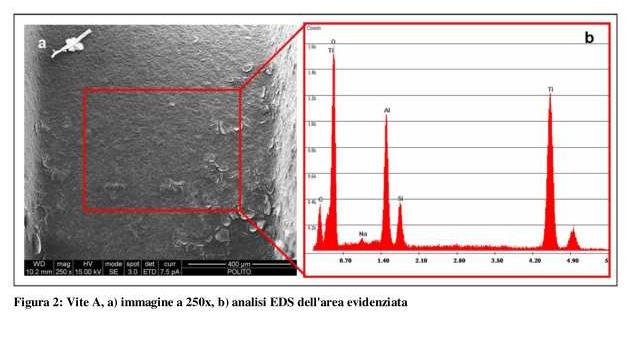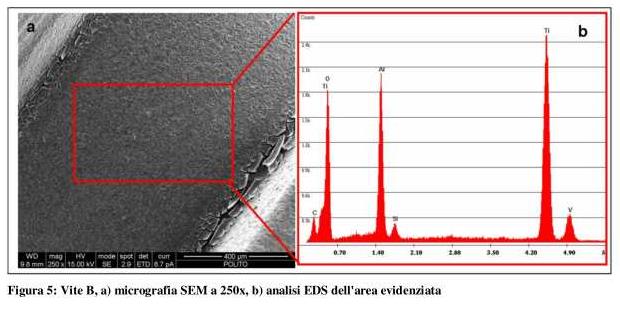 The presence of peaks due to Si and Al are due to residues of the sandblasting process.
FTIR ANALYSIS
The FTIR analyzes (figure 12) show a significant presence of hydroxyl groups on the hyperoxidized samples (wide band between 300 and 3600 cm-1).
The presence of this group is typical following some titanium oxidation treatments.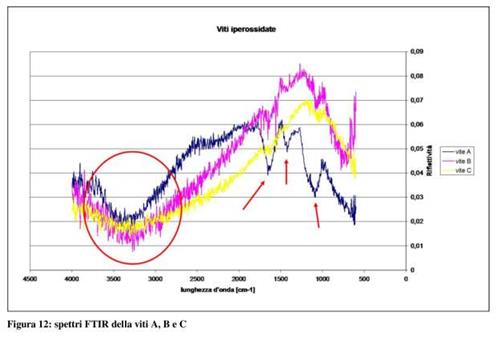 The spectrum related to the type A screw (blue curve in figure 12) also presents signals at about
1083, 1418 and 1639 cm-1. The last of these signals is within the typical area of carbon double bonds and could be ascribed to groups C = C or C = O.
The lower wavelength signals can, on the other hand, re-enter the area of the single carbon bonds and could be traced back to carbonate, CH2 or CH3 groups.
Finally the signal around 1000 cm-1 could also be due to silica.
Summary analysis of SEM micrographs
For all the analyzed samples subjected to treatment with different temporal modalities, the presence of a modified surface layer is observed, with respect to the surface commonly found on implantation screws
The type of contrast, observable under a microscope, indicates a phenomenon of surface oxidation, which makes it less electrically conductive.
The chemical analysis shows the presence of Ti and Al. The presence of aluminum could derive both from the composition of the metallic substrate (Ti-Al-V alloy) and from the presence of alumina particles, used for sandblasting. Given the high Al content recorded on the surface and the rather rare use of titanium alloys in the dental field, there is a tendency for this second hypothesis.
It is emphasized that the presence of V is difficult to detect by means of EDS technique, since the signal is masked by that of the Ti, therefore it is not excluded.
There is also a significant enrichment in oxygen and the presence of silicon on all the surfaces analyzed.
Traces of Na are often found
On all the samples the presence of carbon is detected, but given the great affinity of the titanium surfaces towards this element, it is not possible to quantify its content.
The structure of the modified layer appears compact and has no micro or nano-metric porosity. The areas showing production defects that influence the formation of the compact layer were also analyzed.