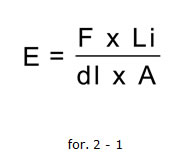 By elastic module (E) we mean the ratio between the intensity of the force compared to the area of the resistant section (F / A) and the deformation (dl / Li)) and the intensity of the force (F).
Each material is characterized by a characteristic and unique (E). It should also be noted that in nature there is nothing indeformable in an absolute sense.
The elastic module is deduced from Hooke's Law "An elastic solid body stressed by a force, undergoes an elongation or a shortening proportional to the intensity of the same force" for example a bar of length (LI) and of section (A) solicited by a force (F) undergoes an elongation (dl) given by the formula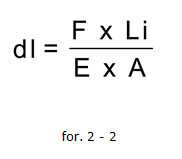 This law assumes particular importance if one takes into account the fact that the forces intended as vectorial discharge on the single teeth can assume considerable entities. They can in fact reach the value of 20 MPa, equivalent to 200 Kg on square cm.
To make a comparison it can be said that the tension for static loads of reinforced concrete never exceeds the value of 110 kg on square cm, while the masticatory stress is mainly of a dynamic nature. It is clear that the considerable forces at play act with a decisive action when they intervene on the various systems that coexist in an implant-prosthetic rehabilitation.
They are: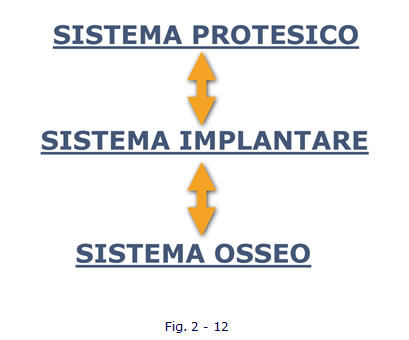 Each has its own mechanical characteristics (elastic module of materials and geometries) different from the other two. It therefore becomes imperative to make the three systems coexist without damaging the weaker or better the one that can be subjected to transformations in a negative and irreversible sense.
It is clear that this must be identified in the bone system.