Let us now look at the clinical effect produced according to the laws previously exposed.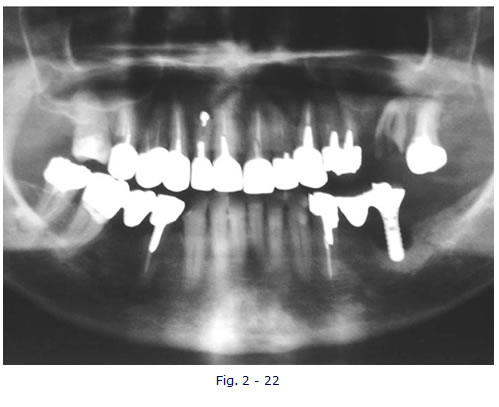 Consider the behavior of the peri-implant bone.
At higher magnification, fig. 2-22, it is possible to highlight an area of hyper periapical condensation due to an excessive load caused by the "nail effect".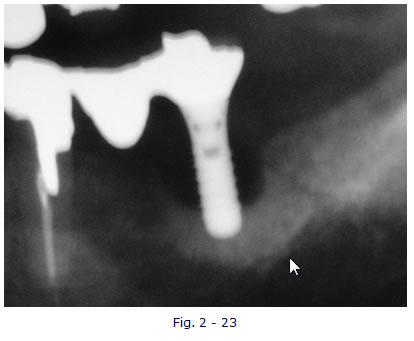 This is the first compensatory mechanism that appears. At the same time, an enormous crater-like defect occurs due to the transmission of excessive bending stresses at the level of the intracortical passage section.
All this in accordance with the deformations of the bridge girder.
Excessive buckling may occur localized even in complex structures in the form of periapical circular resorption as in Figures 24a and 24b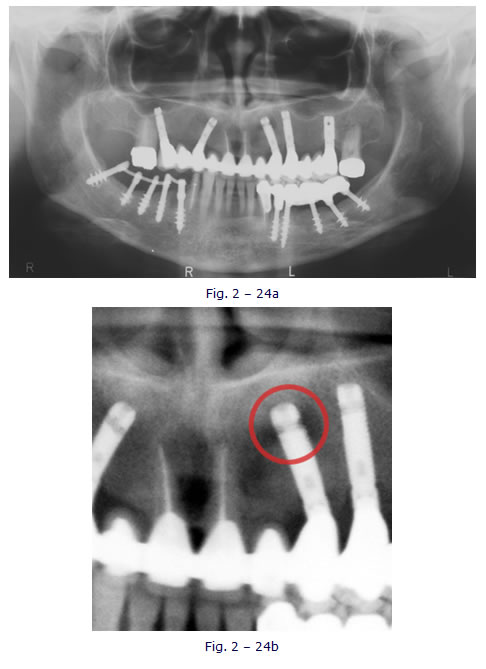 Conoid reabsorption is also present in all biphasic implants.
On the contrary, the electrosolidarized structures do not show any fall in the cervical levels.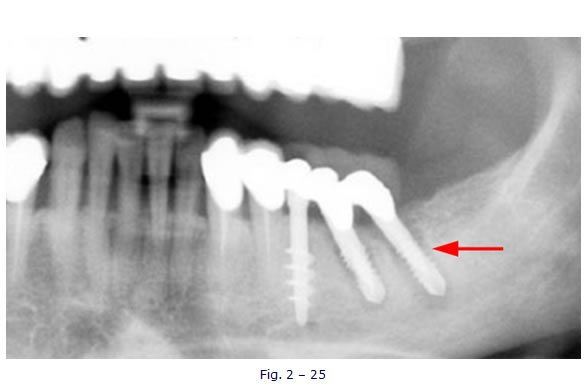 Figure "25" shows how the cylindrical shape, although moderately threaded (from a mechanical point of view behaves in an equivalent way to the smooth cylinder) is the most inconvenient form.
While the loss of integration in the two distal elements is evident, it appears to integrate the structure around the finned screw thanks to the better distribution of the tensional state. All this even in the presence of solidarity.
Large coils have great advantages. The load acts through a component mainly of transfer of tangential forces. The magnitude of the load decreases on the loops in a coronal-apical direction – thus not triggering the so-called "nail effect".
The first subcortical coil is to be considered the "sentinel" element with respect to metabolic balance. The positioning of this structure in a completely subcortical position is fundamental. The more coronal spire will be the last to cleave the cortex and will have to descend towards the medulla leaving in the overlying thickness (mucosa + cortical) the portion of the implant not provided with coils so that it can easily close the passage section under the elastic effect produced from the mucosa only perforated and not scollata with the execution of the flap. The peri-implant seal is thus reformed in a short time.