Biomechanics is that particular branch of Bioengineering that studies the mechanical behavior of anatomical districts and the interaction between the structures that compose them, each having different behavioral characteristics.

If we observe a sectioned mandible resting on a plane (fig. 2-8 sx), we can see that its constitution is the result of the union of components with different mechanical behaviors. Comparing it to a wing section with a geodetic structure (fig. 2-8 dx), we can say that the work performed by the two structures is similar. It is the result of different elements which, however, due to construction or genetic methods, work in a harmonious whole that mediates the various basic characteristics.
For example, the cortex of the mandibular canal can be compared to the longitudinal wing of the aircraft. The cortex works like the geodetic wing structure.
The spongiosa has characteristics like "honeycomb" (honeycomb) as in carbon fiber structures.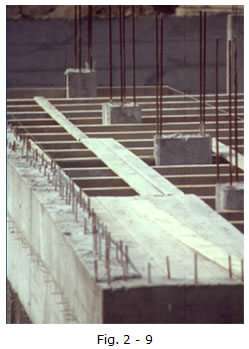 Reinforced concrete (fig. 2-9) is a construction type that has deep analogies with our implantology. Iron is comparable to our installations. The bone behaves like cement. The union of these two elements constitutes a structural complex that despite being formed by two components with different mechanical characteristics, they work in unison without a continuous solution. The planning and construction methods obviate the difficulty caused by the joint work of two elements with different elastic modulus. This is the expression of the elastic characteristics of a body, or the ability to undergo deformation under the action of a given force returning to the initial state at the time of the cessation of the load.
The correct model is certainly not figure A but figure B which allows unison work of the component parts because the iron that withstands moments or bending stresses is placed on the periphery of the structure.

The two components of reinforced concrete perform complementary functions. Cement counteracts compression stresses. The iron those of traction and bending. The structure is designed to counter all the components acting on it.
The bending of the beam is defined as an arrow and indicates the shape that the structure undergoes when loaded. This is the typical behavior of the frameworks of a prosthetic bridge.