The stress release of the forces acting on any type of implant, both biphasic and monophasic, concentrates on the intracortical passage section.
It is at this level that the negative effects in the catabolic sense are manifested, leading to the formation of conoid reabsorption.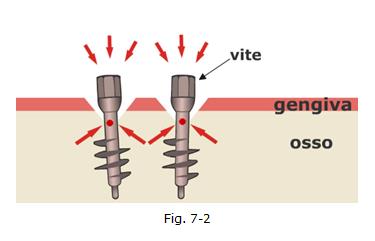 Let us now look at the difference in biomechanical behavior due to solidarity.
By inserting a connection bar in a bridge of three elements (two crowns and a girder represented schematically with a bar of mechanical characteristics identical to the pillar crowns) we proceed to the load given by a force F (Fig. 7-3).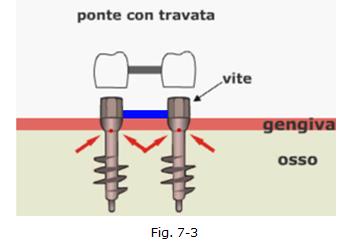 The whole implant-prosthetic complex is subject to the law of Ante which will indicate a flexion of the girder due to the cube of the axis of the pillar elements. This variation in the tension state at the level of the intracortical section will lead to a prevalence of the component in the interproximal area indicated by the arrows. This force, however, is counterbalanced by the interposed bar which in this phase works by compression (Fig. 7-4).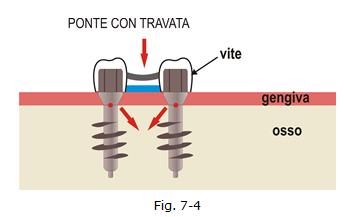 At the time of the release of the force, the directions are reversed in an elastic way, but the bar – which in this case works by traction – prevents the tension from being unloaded from the approximate areas (Fig. 7-5).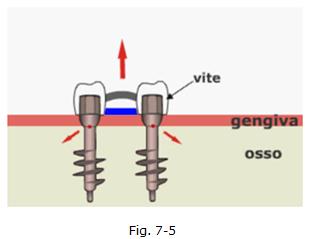 As is evident, there is a huge difference between this system and any splinting obtained with a stiffest possible prosthesis. Also in this case it is not possible to avoid the rules that exist regarding the flexions of the trusses and their consequent tensional discharge on the cortices.
The importance of not triggering pericervical reabsorption is fundamental because, as we have said, the increase of the lever arm leads to the worsening of the lesion due to hysteresis.
The lesion mentioned above is not a physiological epiphenomenon at all, but the beginning of a process that leads to the loss of the implant in a more or less long time depending on contributing factors, including the histological structure of the bone and physiological functions. paraphysiological. The lesion is inhabited by connective tissue with loss of marginal closure that easily lends itself to bacterial colonization leading to peri-implantitis. This pathology is not absolutely dependent on a primary factor, but on the causes mentioned above.