All types of samples embedded in resin and polished were observed with an optical microscope.
Below are the images obtained on the polished sample (before the metallographic attack, Figure 12). The images show inevitable polishing lines, due to the reduced hardness of pure titanium. They show the geometry of the junction area and its macroscopic aspect, which has no large discontinuities.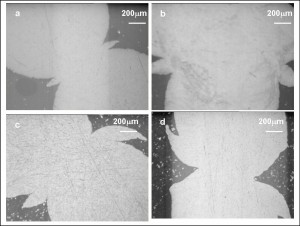 We then proceeded to observe the sections after metallographic attack (Figures 13 and 14).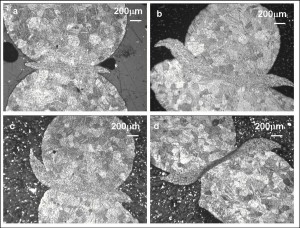 From the low magnification images (Figure 13) a different size of the crystalline grains can be seen in the junction area, which includes both the two lateral protuberances and the interface between the two wires. This area has, in all the samples, a finer microstructure, compared to that of the two wires, due to the rapid cooling of the material after welding. In addition, in the sample welded to two pulses without argon (Figure 13d) a darker color band is observed at the interface between the two wires, which corresponds to the altered zone identified at the SEM.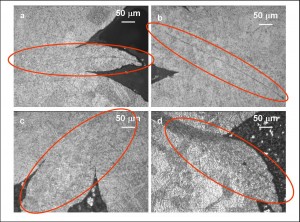 The photographs at higher magnifications (Figure 14) allow to highlight a discontinuity, in correspondence of the welding, which appears as a thin line in the case of welded samples
with a single pulse (with or without the use of argon, Figure 14 a-b) and as a wide band altered in the case of the sample welded with two pulses without using argon (Figure 14d). The sample realized with 2 impulses in the presence of argon (Figure 14e), vice versa, does not present any discontinuity, even if observed at high magnifications, and the welding zone appears as completely homogeneous and differs from the microstructure of the wires only for the small grain size.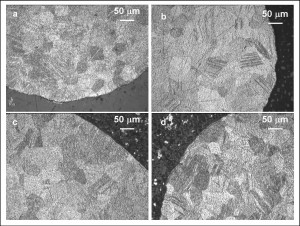 Figure 15 shows the outer surface of the wires of the various samples. There are no microstructures of the alpha-case type, that is a thick layer of oxide.