NUCLEAR DIAGNOSTICS
Scintigraphy with 99mTc
Scintigraphy with 99mTc-HMPAO (Hexamethylpropylene amine oxime), labeled leukocytes in case of suspected sepsis.
In fact, scintigraphy allows an evaluation of the metabolic balance. A physiointegrated implant does not induce uptake, unlike one that discharges tensions that induce catabolism.
Bone scintigraphy is an examination that allows us to evaluate the metabolic behavior not only of the bone tissue but also of the other structures around the implant.
In fig. 5-1 we can observe a well functioning hip prosthesis. This is demonstrated by the fact that around the prosthesis inserted to the right there are no catchment areas, therefore the presence of peri-implant tissues in metabolic balance. There are also areas of uptake in barrier epithelia such as the bladder which constitute the so-called false positive expression of a hyper physiological vasculature.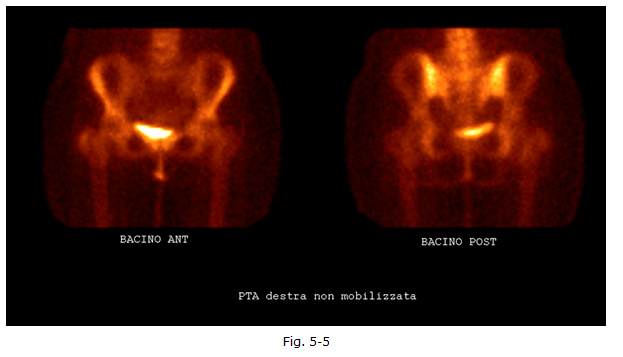 The great sensitivity of the examination, therefore allows us to evaluate the behavior not only of the bone tissue, but also of all the periodontal structures. This allows us to eliminate the doubts that could arise regarding the permanent maintenance of the bar in site.
In fig. 5-6, on the other hand, it is possible to observe the large area of hyper-uptake due to the failure of hip prostheses.
Examining fig. 5-7 and 5-8 we can detect the uptake at the level of the ATM of right, sign of arthropathy.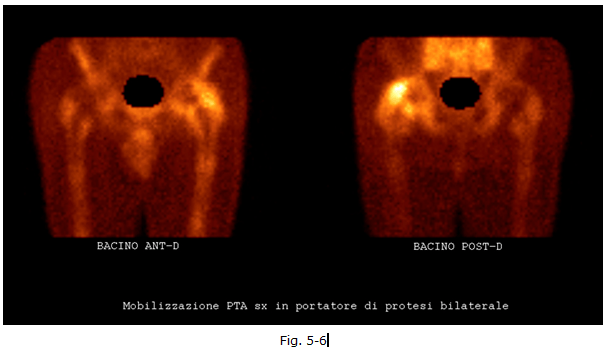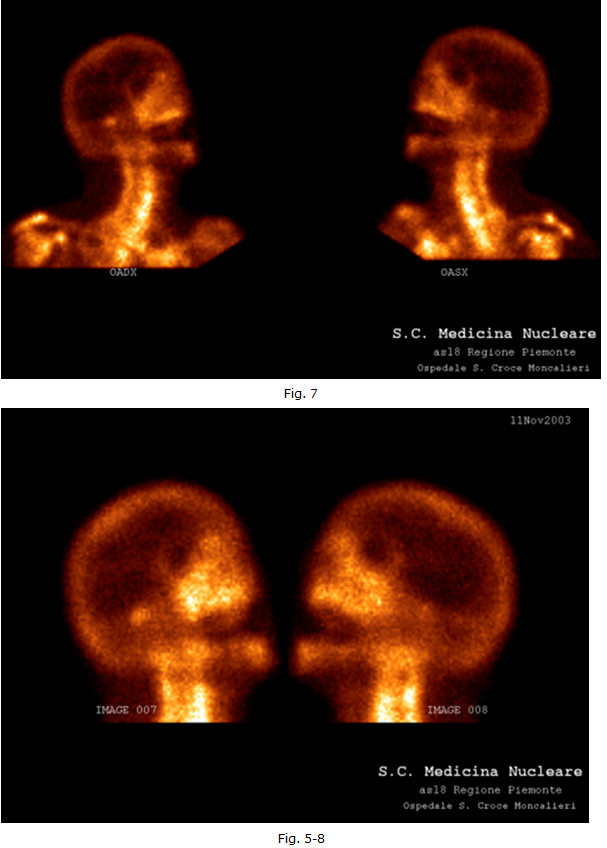 The examination confirmed the diagnostic doubt.
But a far more important fact is the absolute silence detected at the level of the jaws.
In fig. 06 shows the image of a functional and stable biphasic implant which, however, has the typical pericervical reabsorption cone. The hypercaptation zone that indicates the prevalence of catabolism is evident.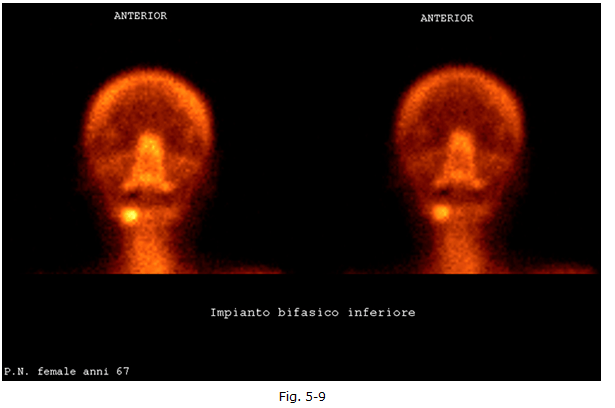 It is evident that this physiological anatomical lesion is not really to be considered as such. In fact it is destined to deepen with a non-linear trend, but with progressively faster progression as the lever arm increases.
A study was carried out on a sample of 15 patients per type, which demonstrated the absence of medium and long-term resorption cones around solidarized implants.
On the contrary, biphasic implants are subject to this type of injury. Even if asymptomatic, that lesion leads to the loss of the elements in a time dependent on the basic characteristics of the bone and the loading conditions.
The data confirm those obtained with the calculation using the finite element system.