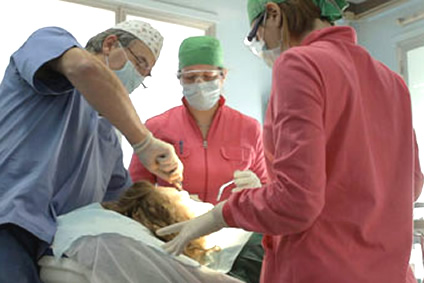 The odonto-stomatology surgery deals with: extraction of very sick teeth that cannot be saved by another kind of treatment (for ex. endodontics); extraction of root remains; removal of roots or teeth encased or semi-encased in the jawbone as the wisdom tooth in dysodontiasis; frenectomy; alveoloplasty; surgical removal of the tooth apex caused by infections when not treatable by endodontics; removal of cysts and neoplasia of the oral cavity.
Depending on a prosthesis-implant, the sinus floor elevation by graft of biocompatible material could be necessary (autologous or heterologous bone, platelet-derived growth factor, etc..).
The Oral surgery also concernes the extraction of healthy teeth in the case of "dental crowding" (the case in which the overall teeth's width of an arch is greater than the width of the arch itself) or to the purpose of a correct orthodontic treatment.